Hamilton Twp Leadership and How It Compares To Theranos and ENRON Leadership
Topic: COMMUNITY INTEREST
Hamilton Twp Leadership and How It Compares To Theranos and ENRON Leadership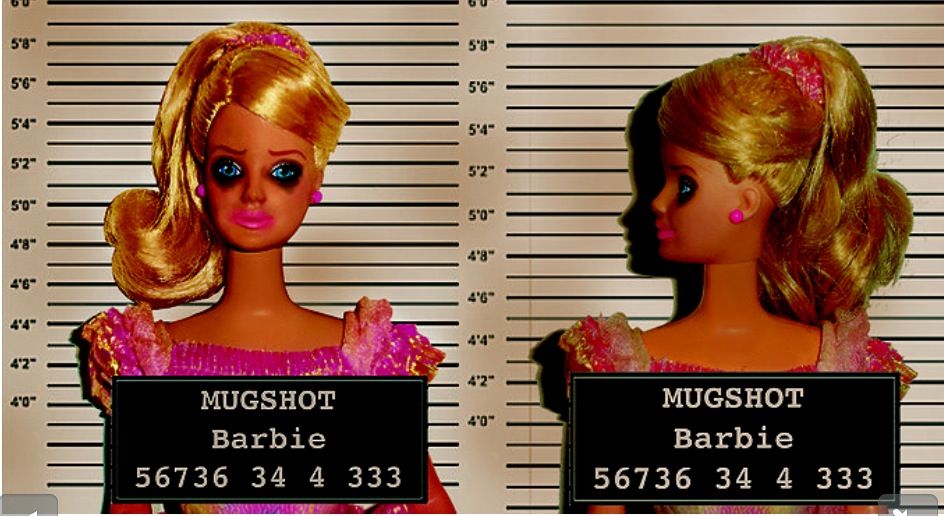 Hamilton Twp Leadership and How It Compares To Theranos and ENRON Leadership
Both female blonde CEO's
Both demonstrate narcissistic tendencies
When confronted with negatively the person giving the negative statement are attacked.
Factually not true statements are a staple for their existence.
False information is given to investors, patients.
Lack of concern with false information
Reckless comments based on ignorance
Nepotism is a core hiring strategy
They try to convince everyone that everyone is stupid and that they are the brains of the operation
Whistleblowers exposed their gross negligence and maleficence
They view themselves as the victim
They blame the media, her employees and her lawyers for what happened
Manipulative to make people going. They hand out things that are 100% not true
Greed and Incredible Deception is eaten for all meals ingested by the CEO
Personal strategy is to Deny Deny Deny!
You get the picture….you see the similarities? Elizabeth Holmes was the CEO for Theranos. She pleaded not guilty last summer. There are 16 million pages of documents that demonstrate the fraud she committed. She faces 20 years in prison.
At the end of a five-year investigation, the FBI discovered that Enron Corporation — an American energy, commodities and services company based in Houston, Texas — who also used a variety of deceptive and fraudulent accounting practices to cover its financial reporting fraud. Corporate officers created the illusion that Enron was making profits in the billions, and its stock soared. Between 1996 and 2000, Enron reported an increase in revenue from $13.3 billion to $100.8 billion. However, the company was actually losing money.
When Lay was indicted for fraud, he conveniently blamed Skilling, Fastow and CAO Richard Causey for Enron's demise and denied he'd known anything about the accounting fraud. Before his trial, he insisted he was a victim in an interview with "60 Minutes," stating: "I don't think I'm a fool, but I think I was fooled … I can't take responsibility for the criminal conduct of someone inside the company." Sound familiar? What's next for the leadership in Hamilton? The recent statement from the leadership of Hamilton are right out of the book of Lay and Holmes.
Fraudsters, like Lay and Skilling, commonly proclaim their innocence by denying a guilty mental state. In a securities fraud case, for example, management will artificially inflate an organization's stock price and then claim it was only a temporary measure to get through a difficult period and not an attempt to deceive anyone. Or in an embezzlement case, the perpetrator will say he never intended to fraudulently take the money because it was only a temporary loan.
High-level executives and CEOs might try to distance themselves from fraudulent behavior by claiming ignorance to demonstrate they didn't know of any organizational fraud to minimize the chances of possible indictment. They'll argue that subordinates who orchestrated the fraud scheme kept them in the dark. At a recent council meeting it was stated by a member of council that they felt the mayor knew nothing of the issues at the animal shelter. How can that be, she is the Public Safety Director. Her job and title dictate that she knows and knew everything.
In most criminal trials, prosecutors seeking a conviction must prove that the defendants showed a "guilty or culpable state of mind" — the legal concept of mens rea. Unfortunately for Lay and Skilling, Fastow testified at trial that his superiors encouraged him to make the financial health of the company look as positive as possible and to avoid public disclosure. So, the jury found that Lay and Skilling knew exactly what they were doing. The damsel in distress statements by the Hamilton leadership will not keep them out of orange jumpsuits.
Legislators, public employees, and other public servants may face severe consequences for violating the public trust. The range of penalties includes censure, removal from office, permanent disqualification from holding any state position, restitution, decades in prison, and fines up into the hundreds of thousands of dollars.
Not all ethics violations are treated equally. Punishments correspond to how bad an instance of misconduct is viewed in the eyes of a state and in consideration of the harm a violation may cause. The most severe consequences are normally reserved for cases of bribery involving large sums or similar types of violations. Like most issues in ethics, however, states vary widely on the details. When Mayor Yaede came into office she disbanded the ethics board and for good reason. She and her team had a lot to accomplish.
The criminal justice process works separately from commissions and committees to impose punishments for wrongdoing. Each may discipline violators of ethics laws using criminal or administrative penalties, respectively, independently and concurrently, depending on the law violated.
Public corruption profiteering subject to penalties of $500,000, $25,000, or $75,000

depending upon severity, or three times the

value of any property involved in the crime. N.J. Stat. Ann. § 2C:30-8.

First degree crimes:

§ Corruption of public resources if the value of the resource is $500,000 or more

§ and subject to obligation to facilitate

§ a public service. N.J. Stat. Ann. § 2C:27-12.

§ Punishable by term of imprisonment between 10 and 20 years. N.J. Stat. Ann.

§ § 2C:43-6. Restitution plus a fine of up

§ to $200,000. N.J. Stat. Ann. § 2C:43-3.

Second degree crimes:

§ Pattern of official misconduct, if one of the acts is a first or second degree crime.

§ N.J. Stat. Ann. § 2C:30-7.

§ Speculating or wagering on official action or information, unless benefit is of

§ $200 or less. N.J. Stat. Ann. § 2C:30-3.

§ Official misconduct, unless benefit is of $200 or less. N.J. Stat. Ann. § 2C:30-2.

§ Corruption of public resources if the value of the resource is between $75,000

§ and $500,000 and subject to obligation to facilitate

§ a public service, or over $500,000 if not. N.J. Stat. Ann. § 2C:27-12.

§ Offer of unlawful benefit to public servant for official behavior, if over $200.

§ N.J. Stat. Ann. § 2C:27-11 & N.J. Stat. Ann. § 2C:27-10.

§ Bribery, if value is over $200. N.J. Stat. Ann. § 2C:27-2.

§ Punishable by term of imprisonment between 5 and 10 years. N.J. Stat. Ann.

§ § 2C:43-6. Restitution plus a fine of up to $150,000.

§ N.J. Stat. Ann. § 2C:43-3.

Third degree crimes:

§ Pattern of official misconduct, if none of the acts is a first or second degree crime.

§ N.J. Stat. Ann. § 2C:30-7.

§ Speculating or wagering on official action or information, if benefit is of $200 or less.

§ N.J. Stat. Ann. § 2C:30-3.

§ Official misconduct, if benefit is of $200 or less. N.J. Stat. Ann. § 2C:30-2.

§ Corruption of public resources if the value of the resource is less than $75,000,

§ and subject to obligation to facilitate a

§ public service, or between $75,000 and $500,000 if not. N.J. Stat. Ann. § 2C:27-12.

§ Unlawful benefit to public servant for official behavior, if under $200. N.J. Stat. Ann.

§ § 2C:27-11 & N.J. Stat. Ann. § 2C:27-10.

§ Improper influence in official and political matters. N.J. Stat. Ann. § 2C:27-3.

§ Bribery, if value is $200 or less. N.J. Stat. Ann. § 2C:27-2.

§ Punishable by term of imprisonment between 3 and 5 years. N.J. Stat. Ann.

§ § 2C:43-6. Restitution plus a fine of up to $15,000

§ . N.J. Stat. Ann. § 2C:43-3.

Fourth degree crimes:

§ Public servant transacting business with certain prohibited persons

§ (him or herself, a family member, associated business).

§ N.J. Stat. Ann. § 2C:27-9.

§ Corruption of public resources if the value of the resource is less than $75,000,

§ and not subject to obligation to facilitate a public

§ service. N.J. Stat. Ann. § 2C:27-12.

§ Retaliation for past official action. N.J. Stat. Ann. § 2C:27-5.

§ Punishable by term of imprisonment no more than 18 months. N.J. Stat. Ann.

§ § 2C:43-6. Restitution plus a fine of up to

§ $10,000. N.J. Stat. Ann. § 2C:43-3.

Joint legislative ethics committee on ethical standards is able to impose, for violations

of the state conflict of interest provisions:

fine of between $500 and $10,000 per violation, reprimand, restitution, removal

from office, permanent disqualification from serving in public office in the state.

N.J. Stat. Ann. § 52:13D-22.
013 New Jersey Revised Statutes
Title 2C - THE NEW JERSEY CODE OF CRIMINAL JUSTICE
Section 2C:30-2 - Official misconduct
Universal Citation: NJ Rev Stat § 2C:30-2 (2013)
2C:30-2. Official misconduct
A public servant is guilty of official misconduct when, with purpose to obtain a benefit for himself or another or to injure or to deprive another of a benefit:

a. He commits an act relating to his office but constituting an unauthorized exercise of his official functions, knowing that such act is unauthorized or he is committing such act in an unauthorized manner; or

b. He knowingly refrains from performing a duty which is imposed upon him by law or is clearly inherent in the nature of his office.

Official misconduct is a crime of the second degree. If the benefit obtained or sought to be obtained, or of which another is deprived or sought to be deprived, is of a value of $200.00 or less, the offense of official misconduct is a crime of the third degree.
REFRESHER ON CRIMINAL COERCION
AN ACTOR COMMITS CRIMINAL COERCION IF HE OR SHE PURPOSEFULLY AND UNLAWFULLY RESTRICTS A PERSON'S ABILITY TO ENGAGE OR REFRAIN FROM ENGAGING IN CONDUCT THROUGH THREATS:
N.J.S.A. 2C:13-5 A(2), CONSISTING OF FALSE ACCUSATIONS THAT A PERSON COMMITTED A CRIMINAL AND/OR OTHER OFFENSE.
N.J.S.A. 2C:13-5 A(4), CONSISTING OF AN ACTION TAKEN OR WITHHELD BY AN OFFICIAL, OR CONSISTING OF AN ACTION THAT WOULD CAUSE AN OFFICIAL TO TAKE OR WITHHOLD ACTION.
N.J.S.A. 2C:13-5 A(6), CONSISTING OF PROVIDING TESTIMONY OR INFORMATION, OR WITHHOLDING TESTIMONY OR INFORMATION WITH REGARD TO A PERSON'S LEGAL CLAIM OR DEFENSE.
N.J.S.A. 2C:13-5 A(7), CONSISTING OF ANY OTHER ACT THAT IS INTENDED TO HARM A TARGETED PERSON WITH REGARD TO HIS OR HER HEALTH, SAFETY, BUSINESS, CALLING, CAREER, FINANCIAL CONDITION, REPUTATION OR PERSONAL RELATIONSHIPS.
Did the leadership of HAMILTON TOWNSHIP commit an act of criminal coercion when they purposefully attempted to restrict a resident to obtain government records as the leadership is named as the defendant in a legal matter. In addition did the leadership of Hamilton commit an fourth degree crime when they sent a township employee to a residents home, to harass them for challenging the leadership.
Let's pay a visit to Mayor Yaede's website… http://kellyyaede.com/about-kelly which was developed for her last campaign. I bet she wishes it was deleted now…..Well in case it disappears. Below is the exact text on the site. I would also bet in hindsight she should regret also giving herself the extra title of Public Safety Director.
"Hamilton Township Mayor Kelly A. Yaede was sworn into office on November 30, 2012, as the first-female Mayor of our township. Subsequently, during a special election in November of 2013, she was overwhelmingly elected to the office of Mayor.
Mayor Yaede also serves as the Township's Public Safety Director, overseeing the health, safety and general welfare of Hamilton's nearly 90,000 residents. She is a spokesperson for the Hamilton Township Animal Shelter and an advocate for the residents, taxpayers and businesses of our community. Under her leadership, Mayor Yaede has prioritized open and accessible government by implementing an open-door policy for residents, enhancing the Township's use of social media and outreach to better communicate with our community and by enacting the toughest ethics laws in Hamilton's history.
During her tenure, Mayor Yaede has also worked to reduce government spending, enact a municipal budget with no tax increase and achieve a credit upgrade of the Township's finances.
Mayor Yaede efforts in the area of economic development have led to several new businesses opening across our community, as well as the start of several, prominent revitalization projects that will reinvigorate historically underutilized sites.
Most notable has been Mayor Yaede's leadership during several health-related and emergency situations that impacted our community during her term of service. During these crises, Mayor Yaede led local response efforts along with Township's Division of Health and Office of Emergency Management by immediately assessing and addressing each situation, implementing the necessary corrective actions and the quickly communicating information to residents.
Mayor Yaede is a lifetime Hamilton Township resident, who is a graduate of Nottingham High School and Stockton State College.
Prior to becoming Mayor, Ms. Yaede served several terms as a member of the Hamilton Township Council, where she served as both Council President and Vice-President. She also previously served on the Hamilton Township Board of Education, during which time she aggressively advocated for, and successfully achieved, a new State educational funding formula that benefitted the Hamilton Public School District with additional funds.
Mayor Yaede's career in public service includes work in both the State Executive and Legislative branches of government. Her private sector career includes working as the Senior Director of Corporate Relations of the American Cancer Society and as Vice President of Community Relations for Roma Bank. During that time, Mayor Yaede also served as the Co-Chair of the Hamilton Chapter of the Mid Jersey Chamber of Commerce."
Well, Mayor Yaede states on her website…" Mayor Yaede also serves as the Township's Public Safety Director, overseeing the health, safety and general welfare of Hamilton's nearly 90,000 residents. She is a spokesperson for the Hamilton Township Animal Shelter and an advocate for the residents, taxpayers and businesses of our community."
There are people in the leadership of Hamilton saying that Mayor Yaede new nothing of what occurred at the animal shelter. As the Public Safety Director it is her job and her sole responsibility to oversee it. As the spokesperson for the animal shelter she must know and be responsible for all aspects of the shelter.
What are the job details of the Public Safety Director for Hamilton…
Assumes full management responsibility for all Public Safety Department services and activities; manages the development and implementation of departmental goals, objectives, and priorities for each assigned service area; recommends and administers policies and procedures.
They are responsible for the plans, organization and directing the activities of the Public Safety Department, providing general law enforcement, criminal investigation, fire suppression and prevention, rescue services and emergency medical services, disaster responses, nuisance abatement, and code enforcement. Oversees the hiring, supervision, training, evaluation and discipline of all department employees. Ensures all local, State and Federal laws and ordinances are properly enforced. She is also responsible for developing the long-term plans to improve departmental operations. Evaluates pending legislation and statutes and responds to changing regulations and technology regarding law enforcement and fire prevention and suppression through review of technical materials and professional education. Being able to develop annual department budgets for operations and equipment are also part of the role. Also assists in developing long-range capital budgets for various public safety programs. She also is responsible for monitoring the departmental budgets throughout the fiscal year and oversees the purchase and maintenance of equipment, vehicles, and supplies. In addition, she coordinates with the planning and zoning department including the enforcement of zoning regulations, nuisance ordinances and code enforcement.
The Public Safety director also establishes, within township policy, appropriate service and staffing levels; monitors and evaluates the efficiency and effectiveness of service delivery methods and procedures; allocates resources accordingly. Planning, directing, and coordinating, through subordinate level staff, the Public Safety Department's work plan; assigns projects and programmatic areas of responsibility; reviews and evaluates work methods and procedures; meets with key staff to identify and resolve problems. So to say she knew nothing about the issues at the animal shelter is complete hogwash. Maybe she can get away with that as Mayor, but as the Public Safety director she cannot.
It is the responsibility of the PSD to responds to and resolve difficult and sensitive citizen inquiries and complaints; explains, justifies, and defends department programs, policies, and activities; negotiates and resolves sensitive and controversial issues.
The PSD also has to develop and administer departmental goals, objectives, and procedures. There must be a continued analysis and assessment of programs, policies, and operational needs and make appropriate adjustments expeditiously.
Do you think the PSD for Hamilton failed the residents? You be the judge.
To ensure it does not disappear….screen captures below.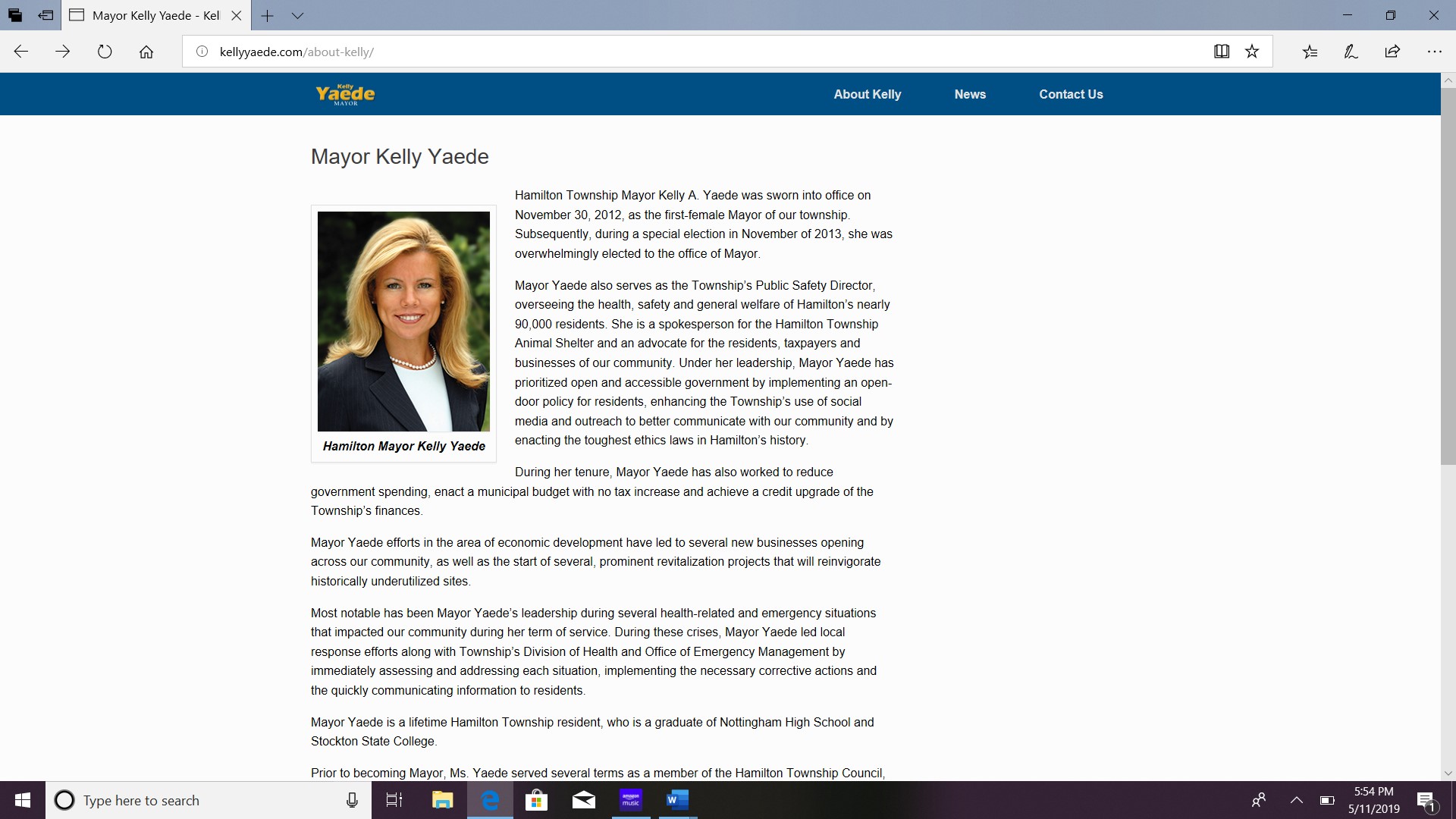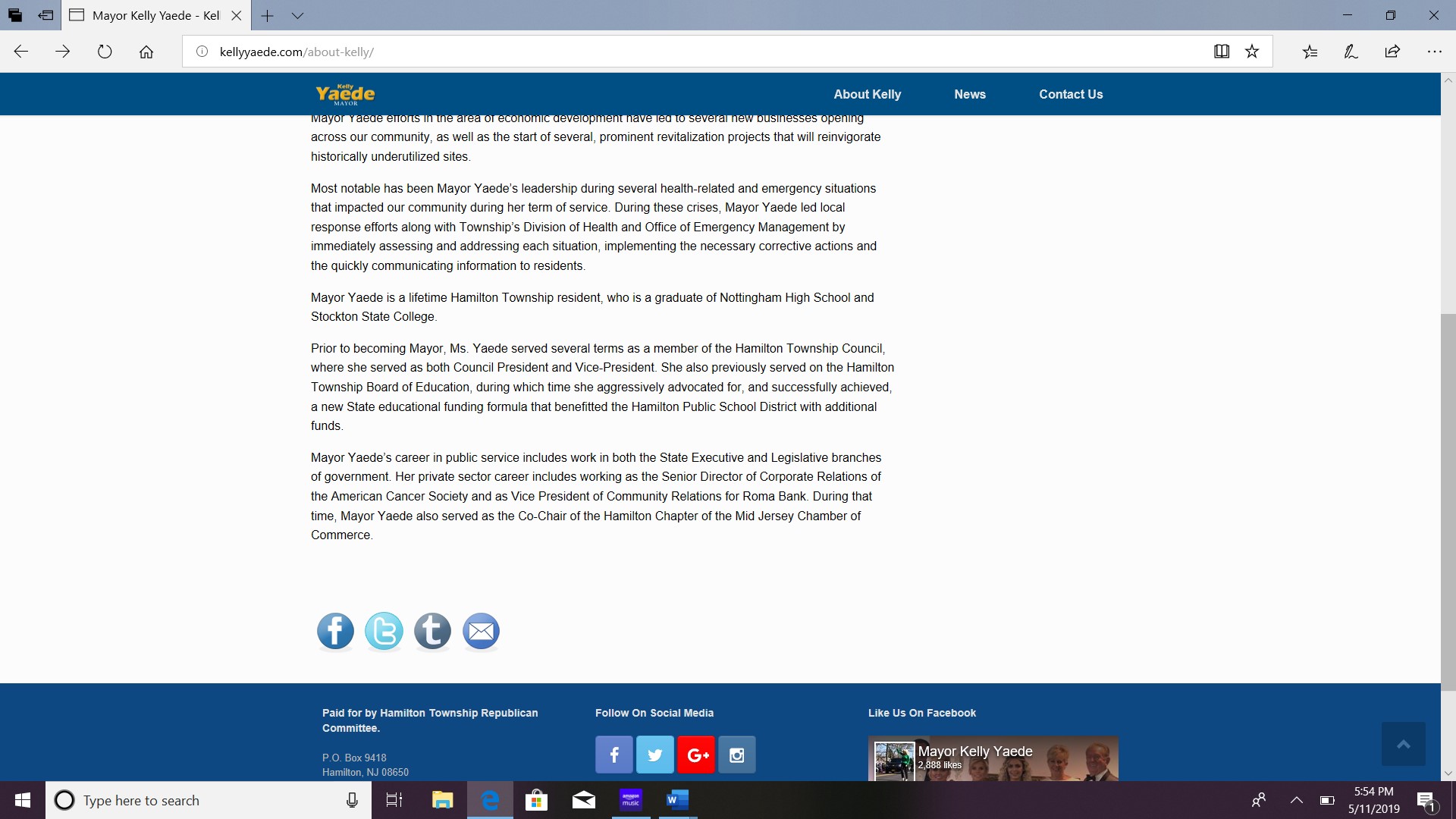 In 2015, Capodanno, a former councilman in the early 2000s, said Yaede should shed the title of public safety director and the police department should have daily crime briefings with the local media.
"One of the things that really bothers me the most is that when you're not aware of what's happening in your town when it comes to crime, that's when you're most vulnerable," Capodanno said.
"It's a quality of life issue," said Gambino, a former mayoral candidate.
Capodanno said Yaede appears out of touch by not talking about the heroin problem in Hamilton, but often referring to the township as "the big H."
"That's a street term for heroin," Capodanno said. "That shows you where her head's at."
Below is the link the article in NJ.com: where her now running mate Capadanno shares his opinion of the Mayor.
https://www.nj.com/mercer/2015/08/hamilton_residents_challenge_mayor_on_portrayal_of.html
"Yaede is putting politics above public safety," Capodanno said in the article a few years ago.
While Hamilton has had a string of burglaries recently, a carjacking at a local hospital and a shooting this past weekend, Yaede was on a golf course Monday raising funds and campaigning, Capodanno said.
The residents of Hamilton agree with Mr. Capadanno. Recently a resident at the Hamilton Council meeting brought up the fact that the Yaede campaign removed competitive campaign signs on the corner of Sandalwood and Sweetbriar to place a large sign for her campaign. However, the property they placed this sign on, owned by Vincent McDonald of Florida, has grass 20 inches high on it. The resident asked that the safety of pedestrians be on the forefront for the Mayor versus the destruction of competitive signage. The next day the Mayor's team came out and weed wacked a "makeshift sidewalk" for pedestrians, yet her signage remained. The grass is almost covering her sign completely at this point. Why not hold the resident accountable for not keep the property maintained? I bet research into how much money the McDonalds have given to her campaign in the past will show interesting information.
Residents are still waiting for answers to many questions…..such as…
What talent has Ms Yaede hidden from us that qualifies her to manage the 169 officers and to protect and serve us?
Why is it that we keep hearing reports of Yaede showing up at police calls and crime scenes when a civilian Public Safety Director is clearly prohibited from meddling at police crime scenes or police operations?
How much did that specially outfitted SUV cost the taxpayer?
Why does Yaede have police equipment in her SUV when it too, is clearly prohibited for civilian Public Safety directors?
If Yaede was insistent on playing Public Safety Director shouldn't she at least have followed the Faulkner Act and the state statutes outlined therein and formally nominated herself, subjecting the nomination to public comment and Council approval as is required for all Director's positions?
The 10 meetings of the PSAC actually brought up many serious issues, thoughts and ideas. How could Yaede put the safety of Policemen, Firemen and Hamiltonians at risk by ignoring and not acting on those issues?
Why is it that Yaede disputes a gang problem in Hamilton, yet her own government applied for a grant to fight gang related crime and the Public Safety Commission expressed its concerns about gangs in Hamilton at 3 meetings?
When will Yaede address the rampant increase in violent crime in Hamilton, particularly the armed robberies, assaults and shootings?
There is a perception that most of the new businesses in Hamilton are small businesses that will bring insufficient ratables to offset the businesses that have closed or left town. Rather then throwing random numbers about business openings, why did Yaede not provide documentation of the NET business growth or reduction and what value it will translate to in future tax revenues for the Budget?
If Ms Yaede believes in an open-door government why was she unable during her 6 years on Council and 1 year as Mayor to ever get the Council meetings televised so residents could see their government at work?
Why does it take nearly 6 months to get Council meeting minutes up on the Township website and why are some meeting minutes selectively missing?
The Mayor's running mate said in 2009 in at a council meeting….
Tuesday, June 16, 2009
VINCENT CAPODANNO, 4134 South Broad Street: You should all be ashamed of yourselves, except for Kevin. It took a judge to bring yous here to have Britton come back with a bid. Apparently, the other bidder Reliable slapped you in the face with a $39,000 bid. And there is no more wood chips or whatever there. I guess what's ever there really doesn't amount to nothing. I don't think you have learned your lesson. Once again, you've lost in court. Once again, a judge had to bring you here. And yet, all of yous just sit here like you didn't do nothing wrong.
COUNCILMAN KENNY: Mr. Capodanno,
MR. CAPODANNO: I'm talking here.
PRESIDENT YAEDE: (gavel) Mr. Capodanno.
COUNCILMAN KENNY: You want to make accusations.
MR. CAPODANNO: You know what you got a whole….He interrupted me.
COUNCILMAN KENNY: You're saying things that are incorrect.
MR. CAPODANNO: He has a couple of hours to sit up here and politic about everything.
VICE-PRESIDENT GOODWIN: Talk about politics.
PRESIDENT YAEDE: Mr. Capodanno, please do not bring up politics.
MR. CAPODANNO: Don't bring up politics, that's all you do is politic.
PRESIDENT YAEDE: Mr. Capodanno, please stick to the resolution.
MR. CAPODNANO: The resolution is that even a judge that had to bring you here, you still don't get it. You caused a local company to spend hundreds and hundreds of thousands of dollars and you're not even ashamed of your actions. So now, go ahead and say whatever you have to say.
What happens when Lack of experience is ignored? Newsweek this week and numerous media outlets have published that this week for the town of Hamilton.
Mercer County Prosecutor Angelo Onofri announced the charges Friday as part of an investigation by his Humane Law Enforcement Unit (HLEU). Todd Bencivengo, 56, of North Hanover, and Jeffrey Plunkett, 62, of Hamilton, are each charged with two counts of third-degree animal cruelty and one count of second-degree official misconduct.
Prosecutors say that, while investigators uncovered multiple examples of mismanagement, there was insufficient evidence to establish any additional criminal charges. Administrative aspects of the investigation are being handled by the Hamilton Township Council.
Both men are scheduled to appear in court on May 21.
The mismanagement of Hamilton stems beyond the animal shelter for the leadership of Hamilton. When an OPRA was done for the SOP's for the school systems from the Board of Health recently, the results demonstrated zero SOP's exist. The dates that were asked for were a few years prior the youth who died in Hamilton from EVD68 and the range ended with the day the 4 year old died. Prior to the death of the young boy, there was a nation wide epidemic occuring of EVD68. Forty-three states according to the CDC were affected prior to the death in Hamilton. Yet, when the Director of Public Health and the Director of Public Safety came to a public forum they both stated, "We never heard of EVD68." During the public forum the leadership stated that the schools were not rigorously cleaned to avoid the spread of EVD68. It was not until the death of the young boy that SOP's were scripted. We are not sure if the SOP
S were ever implemented. This is a very concerning pattern a behavior that exist with the leadership of Hamilton. The leadership owns what happened at that shelter as does the mayor.
Let's not forget the other suboptimal events that occurred under the "watch" of the Hamilton leadership.
-A Bloodmobile at Oktoberfest.
-Flu Shots at Oktoberfest that were kept in a box with no cooling mechanism. The leadership had a Drug store come to the event. It was an unseasonable day, 80 degrees that day. A resident received one of those shots and got sick from it. This was reported to the CDC. When Mr. Plunkett was approach on the issue he stated this he has nothing to do with the supplier coming to the event. He only coordinated it.
-A resident a few years back went on a trip to Peru and unfortunately got sick on the day of their return. They contracted two different types of bacteria. Evidently from Chui and cheese. The doctors caring for the resident, couldn't figure out what was wrong with the resident. The resident's doctor eventually did a unique blood test to help diagnosis the patient. That unique blood test triggers an automatic notification to the health department. The health department should have contacted the resident immediately. They contacted the resident almost two months after their return from Peru.
In Jan 2016, Mayor Yaede nominated Jeff Plunkett to director. Why was this done? What qualifications did council review to make this decision?
""Through Mayor Yaede's leadership, Hamilton has realized a sense of pride in our community, public confidence that the township is headed in the right direction and a sense of trust that our local government is prepared to respond to issues and challenges that we may face," he said. "I consider it a privilege to be asked to join Mayor Yaede's cabinet team and I'm eager to continue my public service to help protect the health and safety of our community in this new role." From 2016 NJ.com article
In Feb 2013, Hamilton's mayor asked the town council to abolish Hamilton's ethics panel and turn enforcement of the code of ethics for public employees and officials over to the state's Local Finance Board. She did this for good reason. So that her staff could run amok. One of her directors has been named as taking 69 free rounds of golf as a government employee. This same employee never disclosed this information on the required Federal disclosure forms. The rules are for everyone except the Mayor of Hamilton and her staff.
The mayor's request to abolish the ethics panel, along with the reforms of contracting procedures that are in the works for the township and the school district, was supposed to be a part of an effort to restore Hamilton residents' faith in their government after the depressing revelations that emerged when former Mayor John Bencivengo and an aide were convicted on federal corruption. She has does little to nothing to restore any residents faith in government. The mayor has made it a point to hire her relatives, sister-in-laws , brother in laws and others for a high ranking position.
The Center for Public Integrity ranked New Jersey first among the states for "transparency and accountability in state government," with "some of the toughest ethics and anti-corruption laws in the nation. However, bridgegate, Barbiegate, and lots of other corrupt tales have been flying out of New Jersey of late.
Among the things that clearly impressed the center were the state's Uniform Ethics Code, with its ban on nepotism, zero tolerance for gifts, stringent post-employment restrictions and extensive training protocols; its powerful State Ethics Commission, with a majority of its members from outside government, which investigates complaints, holds regular hearings and delivers penalties for violations; it's tough pay-to-play law that bars political contributions by vendors; the easy access for the public to officials' financial disclosure statements, and the anonymous hotline on which citizens can ask questions and report possible wrongdoing.
The laws are clear in NJ. What the Hamilton administration has been allowed to go on is against the law. Will anything will happen to those who broke the law? Let's see the week of the 20th.
The NJ State laws are:
New Jersey
· Public official, directly or indirectly offers, confers or agrees to confer upon another, or solicits, accepts or agrees to accept from another any benefit as consideration for a decision, opinion, recommendation, vote or exercise of discretion of a public servant, party official or voter on any public issue or in any public election, or any benefit as consideration for a decision, vote, recommendation or exercise of official discretion in a judicial or administrative proceeding (Bribery in official and political matters)
· Acceptance or receipt of unlawful benefit by public servant for official behavior
· Official misconduct
CC §2C:27-2
CC §2C:27-10
CC §2C:30-2
If the bribe/benefit is $200 or less, Crime of the third degree
Max. imprisonment 3-5 years; max. fine $15,000
If bribe is more than $200, Crime of the second degree
Max. imprisonment 5-10 years; max. fine $150,000
· Public servant , while performing his official functions on behalf of a governmental entity, knowingly transacts any business with himself, a member of his immediate family, or a business organization in which the public servant or an immediate family member has an interest (Unlawful official business transaction where interest is involved)
CC §2C:27-9
Crime of the fourth degree
Max. imprisonment 18 months; max. fine $10,000
· Representation, appearance or negotiation, directly or indirectly, for acquisition or sale of property by state
· Representation of state agency in transaction involving pecuniary interest
· Disclosure or use for personal gain of information not available to public
· Solicitation, receipt or agreement to receive thing of value for service related to official duties
EC §52-13D-21(i)
EC §52:13D-15
EC §52:13D-20
EC §52:13D-25
EC §52:13D-24
Max. fine $500 - $10,000; suspension from office for 1 year; if decided to be willful and continuous disregard of the code of ethics, may be removed from office and may further bar from holding any public office in the State for a 5 year period.
A resident that sat on the economic development board for 1.5 years. They resigned from the board due to the unprofessional aspects and lack of integrity of the township. The way volunteers were treated was despicable. The lack of integrity demonstrated by township employees was despicable as well. Their financial papers, invoices, etc were in complete disarray for the board.
The township employees have to sit through "integrity training" which in the past was actually taught by the township's insurance company. There are normally zero township officials at the training. Only the worker bees and volunteers (at least at the scheduled training I attended). The HR team from the twp also does attend the training it is rumored.
It was clear from the townships insurance company that after the training that if anyone ignored the training aspects and the township was sued for something an employee/volunteer did, and they were trained on this aspect, that employee/volunteer would not be covered under the townships policy. They would need to hire their own lawyer and the township would not help them in any way. So, will Plunkett and Todd have to hire their own lawyers? Will others?
The integrity policy that the township has does not have the teeth in it as the Mayor touts. It is nothing more than a memo, see link below.
http://www.hamiltonnj.com/qcontent/NewsFeed.aspx?FeedID=1193
This memo which was written by the prior mayor who went to jail. It makes reference to a state policy, but the township does not share this state policy with anyone who is asked to sign this memo. One would think they would have the link directly to the State policy near the memo. This is not the case. Clarity on these types of issues is the only way to ensure everyone understands the policy.
In an article by the Trentonian they make reference to a statement by the Mayor.
"In a memo dated Feb. 4, 2013, Yaede informed all township employees, including police officers, that "gifts and other things of value that are otherwise permissible to accept may be impermissible if they are used or displayed in an inappropriate manner, such as in a manner that may create an impression of favoritism or endorsement."
Any government employee worth the honor of holding office or having a government job, knows full well that they cannot take ANY gift EVER. There are no exceptions. They cannot take even a pencil. If you do, you are out of a job, instantly. So, is this why the township employee thought it was okay to take 69 rounds of free golf?
This Hamilton leaderships law is not worth paper it is written on. There is no accountability demonstrated to those who break the laws. A few years ago an employee was arrested for possession and distribution of drugs who worked in compliance and planning. They still have their job with the township, nothing happened.
There is never follow up or accountability given for breaking the law with the current administration. They have a social media policy that their own employees do not follow. There are directors within the township that post inappropriate items constantly. There are no repercussions for that.

If Hamilton really wants to have "teeth" in their law they will formally prosecute all the people involved with destroying government records over the years. The now retired employee who during his employment thought it was ok to take 69 rounds of golf for free should also be prosecuted. All of the digital files and email prior to July 2010 have been destroyed. There was no certification done to formally destroy these records. This is against the law, a serious violation of the law. One that should not be ignored as well. Why is the township clerk, mayor and her administration not being held accountable? The same person who took 69 free rounds of gold was the same person in charge of all of the IT (internet and computers) for the township.
This tale is all too familiar in Hamilton, Mercer County. The last mayor went to jail. The new one looks like she is on the runway ready to take off to the land of orange jumpsuits. She cannot possibly state she knew nothing of her directors lack of integrity. This is a mayor who deliberately ignores numerous public safety issues, allows her directors to break the law, has 15 double dippers on the payroll who are draining the pension system. She has also has hired her family members, allowed the destruction of public records with no certification for the destruction of the records, the list goes on and on.
When residents asked the Hamilton mayor what happened to the calming measures that were supposed to be installed in residential neighborhoods, they got zero response. The contractor who was hired to do the work has financially supported the mayor's campaigns with thousands of dollars in the past. The contractor is also personal friends with the mayor. The calming measures were never installed, and the contract given to the contractor was over $400,000 higher than the other bids given to the town. Today, residents are dealing with tractor trailers speeding through their neighborhoods with toxic with anything from gasoline, explosive materials, oversided loads, etc. Residents have been fighting for years to get this changed. It looked like a decade of fighting for the residents will allow them to win this fight. The calming measures won't go in, but signage to ban tractor trailers in the residential area of Cornell Heights will happen shortly.
We give the town of Hamilton, Mercer County an F-- for integrity and an A++ for wasting taxpayers dollars and forgetting what public service really means. It does not mean.....steal all you can from taxpayers, hire your family, ignore public safety, etc The current leadership is on the same road as the prior mayor.
https://www.nj.com/mercer/2016/01/hamilton_health_officer_promoted_to_department_dir.html
Additional tidbits on Hamilton….For women's history month, the Mayor of Hamilton Township claimed herself the first female elected to that office. This is a fact. However, sadly her record doesn't reflect that she has used this historic milestone to promote other women, . In her first year, she dissolved The Advisory Commission on the Status of Women that had been productive under another township Mayor, Glen Gilmore. During Mayor Gilmore's term former Councilwoman Eileen P. Thornton organized and got sponsors for annual events at Kuser Mansion in March for Women's History Month and another in August at Sayen House and Gardens for Women's Equality Day. Women were invited to come to hear a guest speaker and enjoy refreshments provided by sponsors of the event. Now we celebrate women's history month with a Letter to the Editor from the Mayor. Also, notable is that Ms. Yaede has not given a position in her Cabinet to a woman, nor has she appointed any women to lead or be part of one of the Township Boards or Commissions. For the most part the Mayor just says she is a woman and the first one to be elected in Hamilton as Mayor and will tell little girls they can grow up and be just like her. Well, let's hope that does not happen, unless they aspire to be like the executives from ENRON and Theranos.
Posted by tammyduffy at 9:31 PM EDT
Updated: Saturday, 11 May 2019 9:33 PM EDT