The High One: Denali
Topic: COMMUNITY INTEREST
THE HIGH ONE: Denali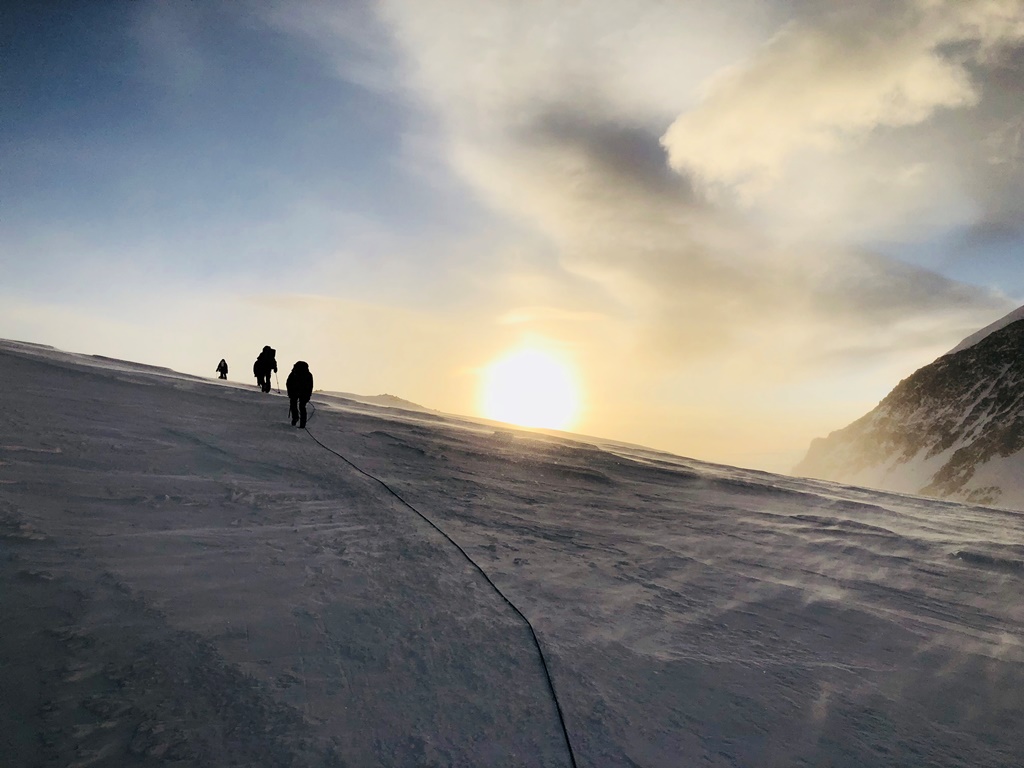 Obstacles are put in your way to see if what you want is worth fighting for. When you climb with a team of friends they are your soul animals. As a mountain climber one develops meaningful relationships with your fellow climbers and your own spirit or power animal. These relationships develop with several power animals that will guide your team during various phases of your life and climbing adventures.
Since the Hudson party first climbed to the summit of Denali in 1913, over 30,000 climbers have attempted to reach Denali's summit. More than 80% of the climbers go up the West Buttress route. The route is technically easy but should never be underestimated. It is rated at a level 2 difficulty. Success in mountaineering should not be measured solely by whether or not you reach the summit. But also, by achieving the satisfaction of carrying out a safe and well-planned exhibition on one of the most extreme mountains on earth.
There are no books that supply the judgement, experience and safety you need to climb the 7 summits. Each individual climber must bring his or her own resources and capabilities to the climb. Conditions are constantly changing, and climbers needs to be prepared for the unknown. Everything can get cold on the mountain, including one's soul. The perseverance, intense physical exertion, teamwork and patient acclimatization are all necessary for this climb. Many climbers find this to be the most challenging thing they have done in the mountains.
From the town of Talkeetna, you fly to the Southeast Fork of the Kahiltna Glacier Basecamp situated between the spectacular peaks of Foraker and Hunter. From there the route is undertakend "expedition style" - carrying high and sleeping low, in a series of four camps. This unforgettable climb has long been regarded as a world-class expedition challenge, comparable to the Himalayan giants, and must of any high-altitude climber.
We arrived in Talkeetna and checked in with the friendly folks at Talkeetna K2 air taxi. They told us they could fly us on the glacier in one hour. After a check in at the ranger station, we did a final weigh-in and loaded our gear onto the plane. It takes about thirty minutes to fly from the airport in Talkeetna to the Moose's Tooth. As we approached our landing site, our pilot banked the plane hard and circled us in for landing. He set the plane down on the hanging glacier just a five-minute walk from the start of Ham and Eggs.
After getting the duffels out of the plane we started setting up camp, digging in our cook tent, and building snow walls. We were all feeling good with our initial bump in altitude, due to the hypoxic tents we had been sleeping in. We decided we would wake up early the next morning and climb to Camp 1. After a 2:30 alarm sounded we cooked up some breakfast, drank some coffee, and by 2:45 we were off to the races. After a half hour we had crossed the bergschrund (A bergschrund is a crevasse that forms where moving glacier ice separates from the stagnant ice or firn above ) and made our way through the steep snow slabs that guard the first pitch. "Ham and Eggs" is primarily a 50-degree snow climb with a handful of steeper rock and ice sections to add to the excitement... and exposure. The summit ridge requires careful traversing on a heavily corniced ridge. From camp to the summit is 3,000' of vertical gain. We made good time up the route finding it in favorable condition. We even stopped at the col for thirty minutes to brew up some coffee.
The following day we lounged around camp, looked up at the route we had climbed, and soaked in the views of Denali and Mount Huntington. We contemplated climbing another route, but with some uncertainty in the forecast we decided that we had done what we came to do and it would be best to get out before we got stuck. In order to fly in and out of the range, pilots need ideal conditions with good visibility most of the way from Talkeetna to the glaciers. Sometimes with large storms it can be up to a week where no planes fly. Fortunately for us, despite a cloud bank in the foothills the next day, a plane came to pick us up and brought us back to town.
The Kahiltna Glacier is renowned for giant crevasses and I wondered how it would feel juddering over them as we landed, but we hardly noticed. The glacier is smooth with plenty of fresh snow cover – not one of those dry glaciers containing a jumbled mass of ice and moraine. Base Camp is right next to the airstrip at 2400m, right underneath the impressive 4442m Mount Hunter, the third highest peak in the Alaska Range, whose easier summit slopes appeared to be guarded by a 1500m wall of rock and ice. At the far end of the airstrip 5304m Mount Foraker, a massive triangular bulk of snow, rose above a junction of glaciers. 6194m Denali is more of a giant whaleback and peered out between two smaller peaks to the north. Although it's clearly much bigger than everything else around it, it appears less forbidding than its two neighbors and is a less technical climb. Patience and a sense of humor are often as valuable as technical climbing skills, and the team must be filled with endlessly cheerful characters who can keep people motivated and entertained when things aren't going to plan.
As well as the new experience of perpetual daylight, that first day out of Base Camp was my first experience of towing a sledge. With 20kg on my back and 30kg in the sledge behind me I had some concerns about how I would cope with the physical exertions I would be putting through muscles I don't usually use. In the end I didn't find it at all bad. Towing a 30kg sledge is an order of magnitude easier than carrying a 30kg pack, and although I sometimes arrived in camp with aching buttocks, I never did tire of hearing some of the American members of the team complain of having a "sore fanny" (This wasn't the only time the nuances of British and US English caused entertainment. I remember the ski tourers in the group being puzzled by my expression during a conversation they were having about "skinning up". I had to explain that skinning up can also mean rolling a joint, an activity more closely associated with snow-boarding than skiing.
The position of Denali's airstrip on an elevated section of the Kahiltna Glacier, means you have to start climbing the mountain by walking downwards on a section of glacier called Heartbreak Hill, a name whose significance only becomes obvious on the return journey at the end of a tiring expedition. Walking downhill with a sledge has its own difficulties, but we walked roped together, with the rope passing through carabiners attached to the sledges. This means it's possible for the person behind you to keep the sledge from crashing into the back of you by keeping the rope tight. The first day from Base Camp to Camp 1 is mostly along the flat, and is good terrain for all, and to become accustomed to our burdens.
Camp 1 is located at the very foot of Denali, at the point where the glacier steepens, and the true ascent begins. Beyond it the slope climbs steeply to the Kahiltna Pass, a col between Denali and the ridge linking it to Mount Foraker. Our plan was to spend two nights there and do a carry of equipment on the first day and cache it in a snow hole at the pass before coming back down again. This follows the standard high altitude mountaineering dictum of climbing high and sleeping low which assists with acclimatization as the body gradually becomes accustomed to the altitude. Everyone was in good shape and keen to go up the Kahiltna Pass and get the additional acclimatization that came with it.
At the Kahiltna Pass the route turns west and begins climbing the West Buttress on a relatively gentle snow ramp which leads between shoulders of mountain all the way up to Camp 3 at 4300m. Camp 2 lies in a flattish area of the ramp a couple of hundred meters above the Kahiltna Pass at 3300m (Americans still measure mountains in feet rather than meters, and Camps 2 and 3 are often referred to by their altitudes as 11,000 ft camp and 14,000 ft camp, respectively). We expected to experience meant a daytime ascent would be preferable, and the carry went without a hitch, although Windy Corner certainly lived up to its name. Expecting to complete our climb up to Camp 3 the following day with the rest of our equipment, we awoke to news that two teams were abandoning the mountain and others were thinking of following. The park rangers were said to be advising teams not to advance to Camp 3 until conditions improved. The incident which sparked this panic was a large rock falling from the West Buttress at Windy Corner and landing between two climbers attached on the same rope. News was spreading around camp that the unprecedented warm temperatures were causing the ice to melt and produce unacceptable rockfall danger. But we had been round Windy Corner the previous day during the heat of the afternoon sun, and while we could see some rocks had fallen, far from being unacceptable we could see clearly enough the level of risk was relatively small. Mountaineering is not without risk, but neither is driving. To abandon the mountain purely because of a reported near miss seemed akin to avoiding a road just because the last time you drove down there you passed an accident site. But hearsay was proving more powerful than hard evidence. Our mountaineering instincts told us it was safe to do continue. Phone calls were bouncing backwards and forwards between rangers, guides and their offices, and some team leaders were being advised by their bosses in Washington to exercise caution. In this context our desire to push on appeared bullish; other guides were looking at us with horror, and it's not good for a mountain guide to acquire a reputation for being reckless. We stayed put while other guides made tentative forays around Windy Corner to see for themselves.
Even so, we were still making good time. We established ourselves in Camp 3. Many people say Camp 3 is the most beautiful camp on Denali, and it's not hard to see how it acquired this reputation. It rests on a huge plateau directly underneath the steep walls of the West Buttress. It's the highest point you can drag a sledge, and behind camp the climbing proper begins as a wide snow gully leads up to a notch on the crest of the buttress. Looking the other way, you appear to be on a balcony overlooking a giant cloud theatre. The crinkled summit of Mount Hunter peeps just a few hundred meters above, while Mount Foraker is still quite imposing. Between them the Kahiltna Glacier provides an alleyway to the far horizon, viewed across miles of green swamp. Arriving at camp is a memorable experience. It's Denali's last hospitable location, and people often spend days there waiting for a weather window. To guard against the high winds tent platforms are sunk into deep pits, and walls of snow are built around them. We arrived late in the season when many of these sites had been abandoned, and I felt like I was approaching some lost city in the desert.
After a rest day at Camp 3 our progress continued when we climbed up the snow gully to the crest of the West Buttress. Just below the ridge line the snow slope steepens to an angle of nearly 50 degrees and a series of fixed ropes have been installed. Using elegant climbing I hauled myself up these Himalayan-style using a jumar. It's almost the most technical part of the entire West Buttress route and purists would wince, but most of us are here for different reasons. Behind me the view was breathtaking, and far beyond the Kahiltna Glacier I could see another distant line of mountains which was so far away it appeared to hang in the clouds. When we reached the ridge it was in and out of mist and gusting strong winds every few seconds. We cached our equipment a short way above in snow that was as hard as stone and tiring to dig. The climbing was becoming more difficult.
There were signs the weather was also changing. Until then it had been almost too good: clear skies and mild temperatures. It was so warm it had induced an unnecessary panic at Camp 2. There was a lot of snow at Camp 3 the following day and we listened to the sound of thunder. Up at Camp 4 climbers were a bit more frightened. They were experiencing a lightning storm, and hurriedly depositing ice axes, shovels and anything else that might conduct as far away from their tents as possible before huddling inside and trying their best to sleep through it all. We were ready to move up there ourselves and listened to the weather forecast being broadcast from Base Camp. It wasn't encouraging.
We had to consider the wind chill, and with wind speeds in excess of 25 mph frostbite became a genuine risk. I've said it before and I'll say it again now: a summit is never worth losing digits for. We really had just two options:
1. We could wait at Camp 3 and ascend to Camp 4 on the 2nd, hoping there would be a suitable summit opportunity.
2. We could ascend to Camp 4 the next day, and hope the forecast was wrong and hold out for a possible summit opportunity on any of the four subsequent days.
If we were in the Himalayas climbing an 8000m peak with plenty of days left to wait for our opportunity, then there was no doubt no.1 would be the favored option. It was comfortable at Camp 3. We had two to a tent, plenty of good food available, and it was reasonably sheltered. All we needed to do was rest, eat well, bide our time, then strike for the summit on the next favorable weather window. At Camp 4 we would be three to a tent at the end of an exposed ridge, and surviving on a diet of dehydrated food. Lying in a storm up there for days would grind us down physically and mentally.
It was a day to cast summit dreams aside and enjoy the moment as we climbed along a knife edge ridge above the clouds with the whole of Alaska beneath us. We picked up our cache on the way and carried double loads for much of the climb, every buckle and strap loaded down with pendulums of loose kit. It didn't matter to me, though. Rarely have I felt such a combination of exhilaration and exhaustion. On the latter part Denali Pass appeared in the distance, the col between Denali's two main summits. A snowy trail known as the Autobahn led to it from Camp 4 hidden behind a rocky promontory in front of us. To Denali Pass is much of the climb on summit day and it seemed within touching distance. The weather was as good as it gets with clear skies and barely a breath of wind, and we dared to hope the weather forecast was wrong and we could ascend tomorrow.
We were exhausted when we staggered into camp at 5250m in a broad snow basin at the end of the ridge with the main summit rising gently above. It was 8pm and we still had to carve out a tent platform, pitch the tent with extra pegs and pickets and build a wall around us. It was another three hours before we could crawl into my sleeping bag. Consequently, I wasn't too upset when I woke up to wind and snow the following day, and knew I had a rest day ahead of me. We gathered in a gloomy mist that afternoon and spent a few hours mining blocks of snow with saws and shovels to strengthen the walls around us. Waking up and finding a layer of snow on our sleeping bags, we closed the ventilation up again and we repeated the process throughout the night. By morning the inside of our tent was beginning to resemble Narnia. I've never seen so much snow inside before. We were lucky though. The other climbers woke up to find themselves suffocating, and had to go outside and rebuild a wall that had collapsed on top of them.
But we didn't have much time and would be taking a great risk if we stayed at Camp 3. We needed a two day window at least in order to reach the summit from there, and we didn't know if there was going to be a single day. We would be wagering everything on good weather on Wednesday.
The next day, the weather was glorious, and we made the decision to climb to Camp 4. We were taking a risk either way, but by spending up to four days at Camp 4 I felt we were giving ourselves the greater opportunity.
The following day, Wednesday, was our last realistic opportunity if we hoped to catch our flights home in time to return to work when we promised we would. We left at 9.30am, reasoning that this time we would be climbing into the warmth of the afternoon sun. A couple of hundred meters after setting off we realized we were struggling into a howling blizzard. My snow goggles had iced up already, and it was insanity to go on. We all voted for insanity..
Nine hours after leaving camp we stood on the summit. There was no wind, and it was warm enough to hang out without wearing gloves. I was surprised that my phone had full service on the summit, so we made phone calls to the one person we love the most. We enjoyed the view and started making our way down the summit ridge. After reversing the summit ridge, 15 or so (we lost count) rappels got us back across the bergschrund and only about five minutes from camp. We arrived back in camp about 14 hours after we left. After eating some pizza and enjoying some beer we called it a day.
The distances one travels on Denali are actually quite short, less than a marathon. The first day at basecamp (elevation of 7800 feet) one only travels 5.5 miles. The next step is to climb ski hill, turn east below Kahilta pass and then north to 11,000 feet. That distance is only 4 miles. Next, another 2.8 miles climbing motorcycle hill, traverse north of squirrel point and finally navigate to windy corner to 14,200. The next day brings you to 17,200 feet by climbing a moderate slope to the base of 55-degree headwall (15,400). There are two fixed lines to assist climbers. Then turn right to the east (you turn left on the way down) to climb the headwall and gain to the west buttress. This is the steepest section, the crux of the entire route. We used our ascenders to assist us up. Then the final push to the summit. It's only 2.5 miles and took 9 hours. One has to ascend just south of Denali pass (18,200) follow the ridge SSE to the football field (19,500) to climb Pighill to Kahilta horn. The final walk along the summit ridge gets you to the 23,320 marker and you think, this is the best $350 I have ever spent. (for the permit).
Washburn's thumb should not be ignored on route to high camp. It's 60-degree slope at 17,200 feet is quite the challenge. Rappelling the fixed lines on the ridge to high camp with 70lbs Packs is quite an amazing task.
My favorite moment --descent from high camp to base camp. We navigated in a disorienting white out winds that howled so hard, I was certain it would knock someone over into the unknown. The hail and snow pummeled our faces as we rounded windy corner. We had to use our GPS and travel wands like a long game of connect the dots.
The success of getting to the summit is overwhelming as a team. Only 50% get to the summit on Denali that try. Many are overtaken by frostbite or altitude. We took the West Buttress route which is the easiest route. The brutal weather, crevasses and 60-degree slopes can bring the most seasoned climber plummeting to their deaths.
Your team is your life line. We love our team and its members. We constantly are in support and motivating each other to take the next step. There is a level of respect we all have for the mountain. The focus on person health is critical for a successful and safe climb. All climbers must ensure they are hydrated the entire way. Like Rod Perry (the founder of the Iditarod) we study the pioneers prior to every climb.
The views we see are climbers are the most magnificent panoramas in the world. Frostbite awaits you, ready to jump on you at the slightest demonstration of arrogance to the mountain. The climate is tough. We drew heavily from our Himalayan, Aconcagua and Killimonjaro experiences to survive. It is a respectful team that gets to stand on the summit. The success is rewarding. It's like looking out the windows of heaven. This was a tiny polar expedition in 3 dimensions. The wonderful companions we have with whom we lived, struggled and climbed are epic.
Posted by tammyduffy at 5:00 PM EDT